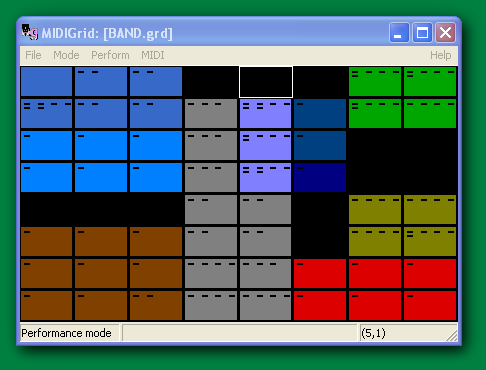 Create Virtual Instruments
MIDIgrid can be used as a musical instrument, which can be designed and used to suit almost any musical style and structure. A Grid consists of 1-200 boxes or cells, each of which can contain a note, or chord, in your instrument's range.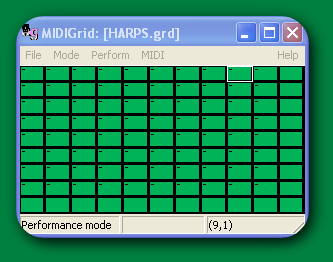 Play Your Instruments
In Performance mode you can play the instrument/s by means of the mouse, trackball or joystick.
The sounds can be played through your computer's soundcard or through an external MIDI instrument.
Up to 16 different General MIDI sounds can be played simultaneously.
Chords and notes can be played once or sustained, sequences can be played once, repeated and looped.

Change the Display
The grid size and display can be changed to suit the style of the music and the needs of the composer and performer.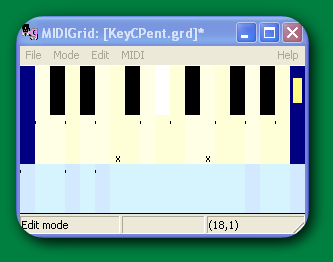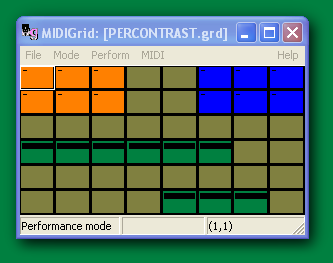 Compose
In Edit mode, create your own content for the cells. Unlike notation software, it focuses attention on the sounds and structures of music and offers unparalleled opportunities for users of all ages to explore the building blocks of composition.

Improvise
In Edit mode, lay out your resources on screen in the way you find most intuitive. You will then be able to focus on making music, free of the distraction of fumbling for the right fingerings, etc..
For busy teachers, and others who do not have the time to do this, The Full Pitcher Music Resources has created grids to facilitate many different kinds of improvisation. A number of sample grids are included on the CD.
See also Improvising with MIDIgrid & GridPlay

Record Multi-track MIDI
Recording an on-screen performance is simplicity itself! There is no need for the person making the recording to know anything about the 'behind the scenes' MIDI settings.
If your computer setup has MIDI IN, you can also record live performances on a MIDI keyboard or other instrument/s connected to it.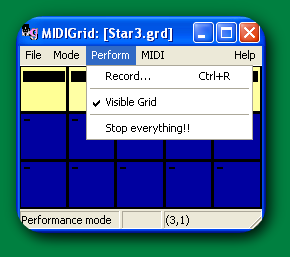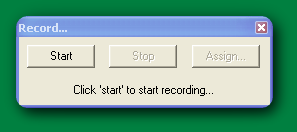 Slightly more advanced users can tweak the MIDI program settings before recording: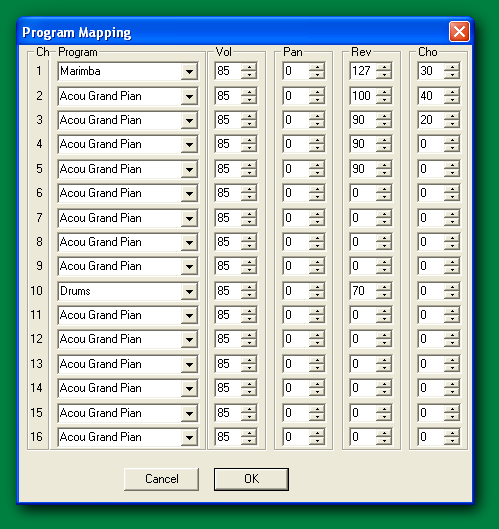 More Advanced Sequence Editing/Recording
Behind its very simple, intuitive interface, MIDIgrid for WIndows has advanced sequence editing features for those who wish to explore deeper.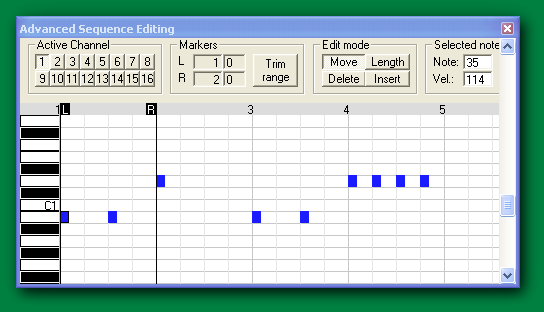 Create Your Own Interactive Resources
In Edit mode, teachers can create their own resources for pupils to use.
The software comes with a number of grid files covering different musical styles and structures. They also illustrate the many ways that the layout and contents of the cells can be defined.
The grids can be used to support music education as well as creative activities. These form a useful starting point and can be quickly adapted to your own requirements.
In addition, further packs of grids and teaching notes to support the UK National Curriculum can be obtained from The Full Pitcher Music Resources.
Machine Requirements
Machine Requirements: Windows '98, or higher
4 Mb free disk space
Internal sound-system for MIDI playback, or a MIDI interface connected to an external synthesizer

Some of the facilities of MIDIgrid use a MIDI keyboard to provide MIDI input. A soundcard with a MIDI interface will be required to use these facilities.
MIDIgrid in the UK Curriculum
Widening Access with MIDIgrid
"Midigrid for Windows" and "GridPlay" resources packs are published by
The Full Pitcher Music Resources (UK Curriculum Online Registered Products)

Home | About | Demos | Products | Help & Support | Contact