Johan Hugosson
Composer, Pianist, Teacher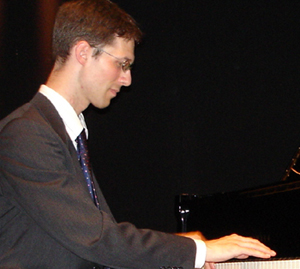 Born in Lund, Sweden, into a musical family, Johan Hugosson has studied piano at the Royal Danish Academy of Music in Copenhagen and the Royal College of Music (RCM) in London.
At the RCM he won the Beethoven Prize, the Chopin Prize and others before graduating from the advanced postgraduate course with distinction. Since graduation, Johan has performed throughout Europe both as a soloist and as a chamber musician.
Johan also plays other instruments including drums, bass, accordion, guitar, and flute. He also sings. Since 1999 Johan has taught piano at a London prep school. Drawing on his vast, diverse musical experience as a jazz/blues/latin artist, rock band member, choir leader and timpani player, Johan composes enticing piano pieces for his students.
Johan's other compositions include works for choir, classical piano and pop music. He is currently writing a children's musical. In 1998 he was awarded composition honors by "Lundakarnevalen" in Sweden.


Contact us for more information